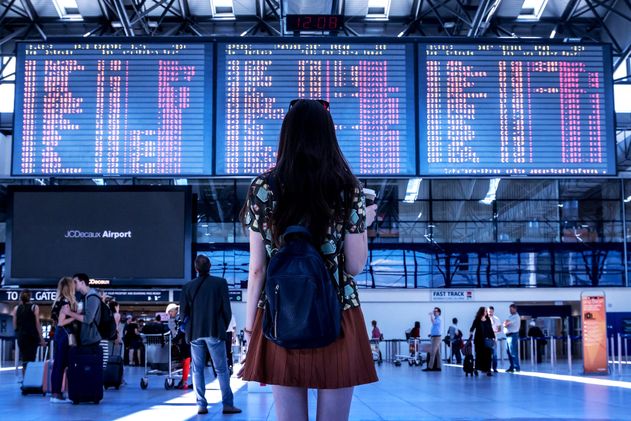 Do you want to live abroad but you don't know how? Believe me, I was there once. Actually, many times!
I spent so many nights researching how to live abroad, where to go, how to study abroad and even how to work abroad. 10 years ago it wasn't easy to find this kind of information. Nowadays, I think it's the opposite: There is so much information available that it is difficult to understand what is true and what is not.  
That's why I made this guide. I am giving you all the information I have on living abroad that I collected after LIVING in 4 different countries.
Here's how YOU can live abroad too:
1. Study a Language Abroad
If you have money saved up, consider applying for a language school to learn a new language abroad! This is the easiest way to live abroad (but not the cheapest). You can live in France, Japan, China, or anywhere else for as long as your course lasts! If you want to learn English, the USA,  Ireland and England all have A LOT of courses to choose from! 
Duration: Courses can run from 1 month to 1 or 2 years depending on how intensive the course is. The website Language International gives you a lot of good information on courses and student visas. 

May's Tip: To be eligible to apply for a visa, make sure to choose a registered school in the country of your choice (no private teachers!). Do a full research on the school before paying anything!
2. Study in University Abroad
This can be done in 2 different ways:
1. You can apply directly with the university of your choice abroad, or
2. You can apply for a university in your country that does exchanges abroad with other universities around the world!
Studying in university abroad can be very expensive in countries like the United States, Ireland and England (you could be paying 10k dollars or even much more for a year of studies). If you can, avoid having those countries as your first choice. If you are European, many countries in Europe offer free education for EU citizens (Finland, Germany, Sweden).
If you need a visa to study abroad, here are some countries in Europe where the education is a bit cheaper:
Germany (possibly the one of the cheapest places to study in Europe)
Spain
France
If you want to know more about studying in Europe, the Study EU website has information about studying in many European countries.
May's Tip: Don't waste your time applying for scholarships in foreign countries. They are very hard (maybe impossible to get). Trust me, I applied for at least 100 of them. If you need or want a scholarship, check if there are any available directly with the university you are applying for, or directly with YOUR country's government. I got a scholarship from my country to study in Ireland for 1 year!
3. Study in High School Abroad
This is great if you're young and in high school. Many high schools will offer this program free of charge (especially in the US and Canada).  Your study exchange program can be:
1. Regulated by an agency, which will help you find a family or a dorm to stay in, or
2. You can try to book everything by yourself. This can be a little complicated but it definitely can be done with some research of the school and the city you want to go to (how do you think people that move countries do it?). The most difficult part of doing it alone is finding a place to stay, so if you don't know where to stay, use an agency!
Studying abroad for High School in a public school can cost you anywhere from 5000 - 20000 dollars per year (including accommodation, excluding flights), depending on the country you want to go to.
If you are going to live abroad, read my guide about studying abroad and how to make it a success!
Duration: 6 months - 1 year.  
May's Tip: If you're staying with a host family, make sure you have a good relationship with them BEFORE you go. I had a terrible experience with a host family in the USA, and if you want to know more, you can read about it here.
4. Work Abroad: Applying for a Job
If you decide to apply for a job abroad, first you need to make sure that your diploma is accepted in the country you want to go. This is not easy to find out but the rule of thumb is: If it's a law degree or a medical degree, it may not be accepted, or you may need to take additional courses when you go abroad. if it's a science degree: IT, Engineering, Chemistry, Biology, there are BIG chances that it is OK for you to work abroad.
When you apply for a job abroad, then next thing you need to have in mind is the visa. If you can work in that country without a visa, then your chances to get the job are much higher. If you need a visa to work (and you don't have a visa yet), then your company will need to sponsor you. Before you go through all that trouble, ask yourself:
Do I have valuable experience in the field?
Will the company highly earn with my experience?
If yes, then go for it! If no, then the company might not even consider your application. Many companies DON'T want to sponsor visa applications because:
They think it's too complicated or they don't know how to do it
They can find other candidates in the country that have a visa (and in this case they will get a priority if you don't have any special skills)
May's Tip: One thing you can do to improve your chances of being accepted is to send the company, along with your application, a step by step process on how to apply for a visa for you if you get accepted. Show them that the process is not complicated and that you can support them if they need help! 
5. Work Abroad: Critical Skills
Critical Skills are skills that each specific country is in need of the most. People that fall into the critical skills category have more chances of being selected for a job abroad. In this case, the company that will be sponsoring your work visa will be demanding a critical skills employment permit for you.
Each country has different requirements for critical skills. Here, for example, is the list of critical skills of Ireland.
May's Tip: Unless you have experience (or a degree) that is very beneficial for the company, residents of that country will still get the priority for the job. If you want to work abroad and have skills that are considered critical in the country you want to go to, make sure to try and differentiate yourself by gaining experience in your area and also doing additional courses. If the country has a shortage of people in that profession, it is also much easier to find a job.
6. Work Abroad: Asking for a Transference
This is an easier way to work abroad is working in a multinational company in your home country for a few years then ask for a transference to work abroad for a certain period of time! Many companies will do it if your skill is needed in the location you want to go to!
 7. Travel and Work Abroad Programs
There are many countries that offer opportunities to travel and work abroad. Many of these opportunities are for people that are younger than 30 or 35 years of age, but some programs have no age restriction. Some of the countries that offer programs to work and travel abroad are:
If you don't find your country in the lists or the country you are looking for, make sure to check with your government to see what are the opportunities to work and travel abroad.
I hope this list helped you see all the many ways to work abroad. Planning to live abroad is not easy, but it is definitely possible! Remember: if you really want something and you fight hard (and smart) for it, your chances to get it a pretty good!