When I was in Thailand, I wanted to do what any other tourist does when they go there: Experience a Thai massage.
Most massage places are so cheap, it's impossible not to try it at least once.
But with so many options, I didn't know where to go:
What if the massage was bad?
What's the best massage I can get for cheap?
Will I even like a Thai massage?
I knew that if I picked a place that was cheap and it turned out to be bad, I would be disappointed. But I also did not want to pay loads for a massage!
I know what you're thinking: I'm too picky.
Maybe I am, but I was probably only going to have time for one massage, because I was in Thailand for a work trip.
So after doing lots and lots of research, I came across a place called Perception Blind Massage. Their concept is simple: They employ and train visually impaired people to become massage therapists. This not only gives a job opportunity for visually disabled people, but it also explores a new type of massage: One that is guided only by the touch and the areas you need it the most.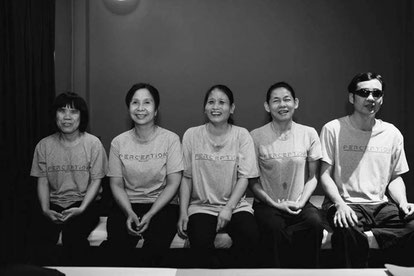 When I arrived, they offered me tea and cookies as they prepared the area for my massage. The tea had a refreshing mint taste, perfect to calm your mind without making you sleepy. It was late, and almost closing time. I was probably their last customer for the day. From the waiting room, I could hear therapists going up and down the 2 flights of stairs, grabbing their shoes at the entrance, and finally, going home. 
"It's amazing how one can adapt to losing a sense" I thought.
The whole place was full of quirky signs about vision and sight, such as "The eyes are useless when the mind is blind" or "The only thing worse than being blind is having sight and no vision."
For my massage, I had chosen a 60 min Thai body massage with no oils. The full treatment costed me only 450 baht (roughly 15 USD), which I thought was a really good price. As I waited, they gave me a card with the photo and name of my therapist, the reason why she became blind, and what she was doing before become a massage therapist. In the case of my therapist, she had suffered from Glaucoma, and before being a masseuse she used to work in a street market. It really makes you feel that life can change at any moment.
When my massage area was ready, the receptionist took me to it: The area had dim lights and the walls were painted with a dark grey tone. All the decoration was inspired by the disability of the therapists. I lied on the bed, adjusting myself to the quiet environment, as my masseuse arrived. 
From my bed, I hear footsteps approaching. It was the receptionist, but this time with my therapist. She introduced us to each other, as the lady did not speak English. She greeted me with a big smile, which I returned. It's funny how smiles can be felt as well as seen. If I say hi while smiling, there is a complete different intonation to it than if I say it angry.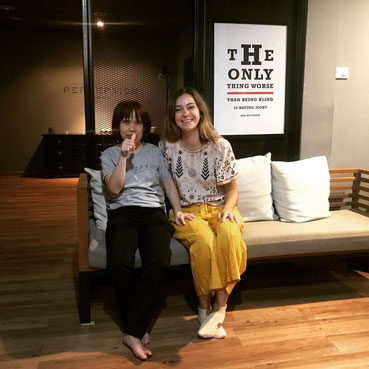 The lady started the massage by the back, moving to my extremities and focusing on my stiff points. A Thai massage is much more "active" than a relaxing one: Your body will be moved in several different positions as the masseur works on each pressure point to release the tension in your muscles. However, be warned: Thai massages can be very intense. Especially if you are feeling a bit stiff. My shoulders were so tension from working long hours that I could feel knots under my skin as my masseuse tried to release them.
In the beginning of the massage, communication was a bit of a struggle: Sometimes she wanted me to turn my body into a different position but I couldn't understand what to do. I believe this is partially my fault, for trying to be the one in control. When I started to listen up and allowed her to show me what to do, everything was much easier. From that moment onwards, we communicated by touch.
As the massage ended, I took the opportunity to take a picture with my therapist. I then proceeded to leave her a tip, and order a tuktuk back to my hotel.
The day after the massage I felt a lot lighter and relaxed than before: That's the magic of a good Thai massage.
Trying a massage at Perception Blind Massage made me see a different side of the world at the same time that I experienced a lovely massage. I could have just chosen any massage parlor in Bangkok, but I believe the experience wouldn't have been as fulfilling.